Complete lighting kits
Valeryd's complete lighting kit makes it easy and safe to fit lighting on a trailer. All you need is included in our lighting kit and you do not need to splice or screw any cables, everything is connected using bayonet connectors and smart cables. One lightning package includes the following:
Main cable with trailer connector
2 x tail lights
2 x side marking lights
2 x position lights
smart cables with connectors
suspension clips
pliers
plastic ties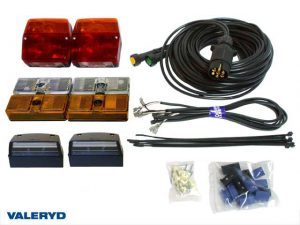 Here you find our complete lighting kits
Put together your own lighting kit
You can also choose your own lighting kit, by just choosing a lamp kit, and then supplementing this with the right cables.
Instruction
Look at the picture and then follow the instructions below: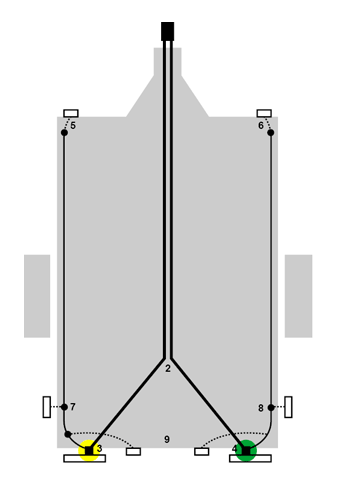 Proceed as follows:
Start by fixing the main cable from the plug (1). Surplus cable can be secured under the chassis (2).
The two bayonet connectors are connected to the tail lights. Yellow=left (3) and green=right (4).
The smart cables run from the bayonet connectors. These are routed to the position lights that are attached to the front of trailer (5 and 6).
To install the side marking lights (7 and 8) use smart cables that are spliced with the help of smart clips and the smart clip pliers on the long smart cable. Number plate lighting (9) and other required lighting, is spliced in the same way.
Important:
Do not splice the main cable!
Connect any direct earthing to the chassis, which is standard on older vehicles.