Information about lighting
The trailer's electrical system and lighting consists of a connector, cable and lamps. The connector is plugged into the rear of the car, which supplies the trailer with power so that the tail lights on the trailer and other lights work.
Trailer lighting functions
The following lamps are included in the trailer's electrical system:
Trailer connector (1)
The trailer connector is connected to the car. There are two variants, one 7-way and one 13-way.
Position light (2)
The position lights illuminate with a white light, and are located on the front of the trailer.
Side marking lights (3)
The side marking lights illuminate with an orange light.
Tail lights (4)
The tail lights are located at the very rear and illuminate with a red light. In addition to the tail lights, there are also indicators, brake lights and a reflector, furthermore, depending on the model there can also be fog lights, number plate lighting and reversing lights.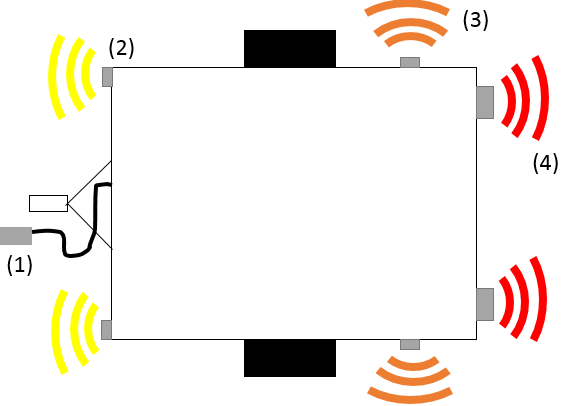 What type of lamp should I choose?
Here are a number of answers to see what kind of tail lights you should choose.
Same as before
If your right-hand tail light has broken, then you must change it. You must then choose a light that is similar to your left-hand tail light, except a right-hand version. The rule is that it should be symmetrical, i.e. a right-hand variant and the same left-hand variant. You can switch to a completely different model, but you must then change both the right and left-hand tail lights on your trailer.
Advantages of LED lighting
Choosing LED lighting has many advantages. Valeryd has a broad range of LED lighting.  Here are just a few of the advantages:
Longer durability, no bulbs need to be replaced.
Waterproof
Better lighting, clear light
More attractive
Lighting kits
Lighting kits are an addition option to consider. A lighting kit is a package solution which includes everything: trailer connector, cables and tail light as well as side marking lights and width marking lights. Clips and pliers are also included so you can close the clips.