Lighting maintenance and wiring diagrams
Lighting system on the trailer and caravan
Apply electrical contact grease on all contact surfaces such as, the bulb's contact surface, plug contacts, female contacts, contact clips = cable lugs. Clean if necessary so that old contaminated surfaces become clean and apply a good electrical contact grease.
Do not subject your lighting to unnecessary stress from high-pressure washers or the like. If this occurs, make sure to remove the lens and wipe off all moisture. Well-greased surfaces reduce the risk of contact problems.
Take care of plugs and make sure they do not sit in gravel and that water cannot penetrate the connector. Use a plug holder.
Always keep an extra set of bulbs, plugs, fuses, electrical contact grease, electrician's screwdriver and a wiring diagram close at hand when on your journeys.
Always invest in high quality bulbs for your trailer.
Common errors
Check fuses, if the fuses blow, check that there is no short-circuit.
 Undo plugs and make sure that the conductors sit firmly in the plug contacts (frequently loosen when you pull the cord instead of the plug).
 Use a small screwdriver or knife and pull a part the pins in your plug. Lubricate with electrical contact grease. Replace the plug if necessary.
 Check female connectors, clean, lubricate and replace when necessary.
 In the event of an earth fault, the electrical system often behaves uncontrollably and flashes irregularly, make sure that all earth connections have good contact, replace cable lug if necessary and lubricate with electrical contact grease.
Recommended wiring diagram
For 7-way/13-way connection boxes according to standard. On some 7-way boxes there is an extra terminal. Number 8 which is designed to automatically disconnect the fog light on the car and transfer this to the caravan/trailer.
On the 13-way box this is number 2a.
Valeryd does not accept liability for damage caused by improper electrical installation! We recommend that you contact a workshop that has knowledge of electrical installations.
These wiring diagrams show the connection on the car: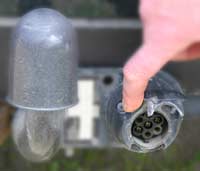 7-way ISO 1724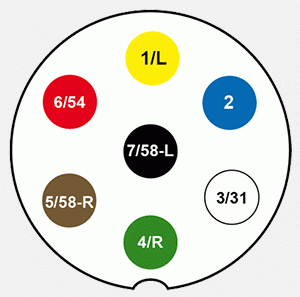 | | | | |
| --- | --- | --- | --- |
| | 1/L | |  Indicator left (yellow) |
| | 2 | | Fog light (blue) |
| |   3/31 | |  Earth (white) 1-7 |
| |  4/R | |  Indicator right (green) |
| |  5/58-R |   |  Tail lights right (brown) |
| |  6/54 |   |  Brake light (red) |
| |  7/58-L |   |  Tail lights left (black) |
| |  8 |   |  Switch for dim contact (grey) |
13-way DIN/ISO 11446
| | | | |
| --- | --- | --- | --- |
| | 1/L | |  Indicator left (yellow) |
| | 2 | | Fog light (blue) |
| | 2a | | Switch for dim contact (grey) |
| 1-8 |   3/31 | |  Earth (white) 1-7 |
| |  4/R | |  Indicator right (green) |
| |  5/58-R |   |  Tail lights right (brown) |
| |  6/54 |   |  Brake light (red) |
| |  7/58-L |   |  Tail lights left (black) |
| |  8 |   | Reversing light (black/red) |
| |  9 |   | Positive terminal cable (brown/white) |
| |  10 |   | Charging cable (red) |
| 10 | 11 |   | Earth to 10 (white) |
| | 12 |   | Trailer present (red/blue) |
| 9 | 13 |   | Earth to 9 (white) |