Information about gas springs
Many application areas
Gas springs are used in many different situations – cars, boats, trailers, chairs, hatches, machine hoods, agricultural machines, etc. Gas springs are often the best and most practical solution to use when something needs to be lifted or opened. The potential applications for a gas spring are many and it's your innovations and ideas that together with a gas spring can create functional products.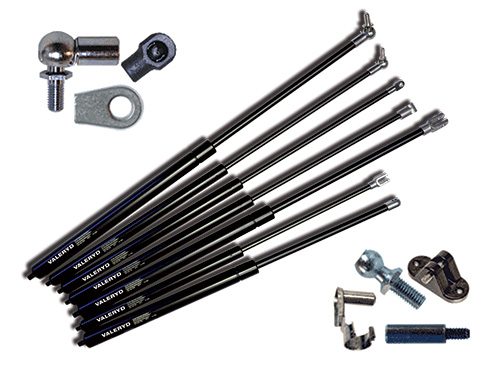 How does a gas spring work?
A gas spring consists of a piston housing, piston rod, piston and seals. It is filled with nitrogen at a very high pressure (up to 230 bar), to create a counter force. Nitrogen is an inert gas that does not burn, explode or is toxic. In addition to nitrogen, there is also a small amount of oil in the gas spring. The oil provides optimal lubrication and at the same time it gives the gas spring a hydraulic dampening at the end of the stroke.
Piston
Housing

Piston
rod
Gas spring maintenance
Gas springs are maintenance free. Never lubricate the piston rod with grease or oil. The piston rod must not be painted and should be protected against impact or other external force. The cylinder must not be deformed as this kind of damage can destroy the sealing system. Gas springs must not be exposed to side forces. If this is the case, and small side forces are unavoidable, there are special brackets available to reduce this.
Additional information
Valeryd's gas springs work in ambient temperatures from -35°C to +90°C. The gas springs must not be overheated and not placed in open flames.
The gas springs are mainly made of metal and can therefore be recycled, however, they must be depressurised first
As far as possible, always fit gas springs with the piston rod downwards so that the oil can maintain and lubricate the seals for the best service life
Always replace both gas springs at the same time, even if one works to avoid lopsided loads and so that you do not have to make replacements more than necessary
Avoid external impact on your gas springs as scratches and the like will impair and reduce the life of you gas springs